Safety Tips for Using Spartan Zero Turn Mowers on Hills
Wouldn't it be great if all lawns were level and smooth? Could you imagine how easy it would be to mow the lawn? However, the reality is most lawns are not perfectly even. Many have landscaping, trees, slopes, and other obstacles that can make mowing the lawn a bit of a challenge.

Inclines and hills seem to be the most challenging when it comes to lawn obstacles, but most are not impossible to mow. Here are a few tips to keep you safe while mowing on hills and unlevel terrain and how Spartan Zero Turn Mowers make the task safer and a little easier.

ALWAYS START BY FOLLOWING SAFETY GUIDELINES
When it comes to operating a zero turn mower, it's important to take time to get to know your mower and what it can and cannot do. Even if you have used a similar mower in the past or owned the same brand mower, you should always read the owner's/operator's manual.

Unlike using a common household appliance or turning on a new computer for the first time, a zero turn mower is a powerful machine that requires a little more attention. The Spartan Mower owner's manual provides specific information that is vital for a smooth operation and to keep you safe.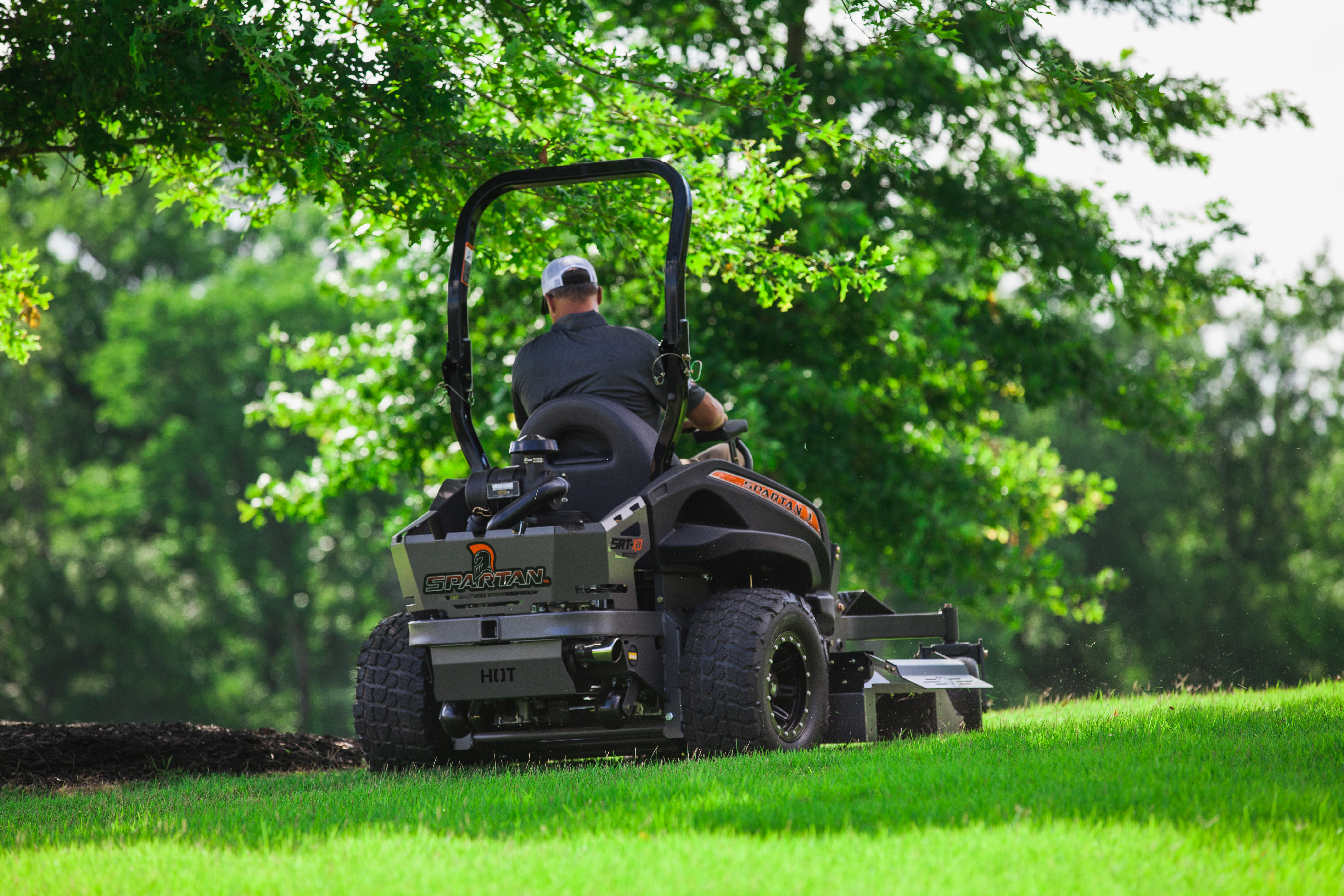 KNOW YOUR LAWN AND PROPERTIES
In addition to knowing the controls and how your Spartan Mower works, it is also important that time is taken to know your lawn. And if you are a professional lawn care manager, it is equally important to know the properties you and your team manage. Take note of uneven terrain, holes in the lawn that are not easy to see, areas near water, etc.

If you come across a hill that needs to be mowed, and you are unsure whether it can be mowed with a zero turn mower, then you can do a couple of things. First, use a slope gauge to determine that the slope of the incline is no greater than 15 degrees. There are instructions on how to do this in the Spartan Owner's Manual. Second, you can choose to play it safe by using a push mower. It may take a little longer, but your safety is more important.

TAKE IT SLOW WHEN MOWING INCLINES AND HILLS
One of the best things about owning a Spartan Mower is the ability to cut your mow time in half. Spartans can run between 9 and 13 mph depending on the model. However, when it comes to hills and inclines, the last thing you want to do is go fast.

By going slow, you allow your mower to get more traction. In addition to keeping your speed below 4-5 mph, it is also suggested that you try to keep your speed steady. Not only does this help with traction, but it is also good for getting a clean cut.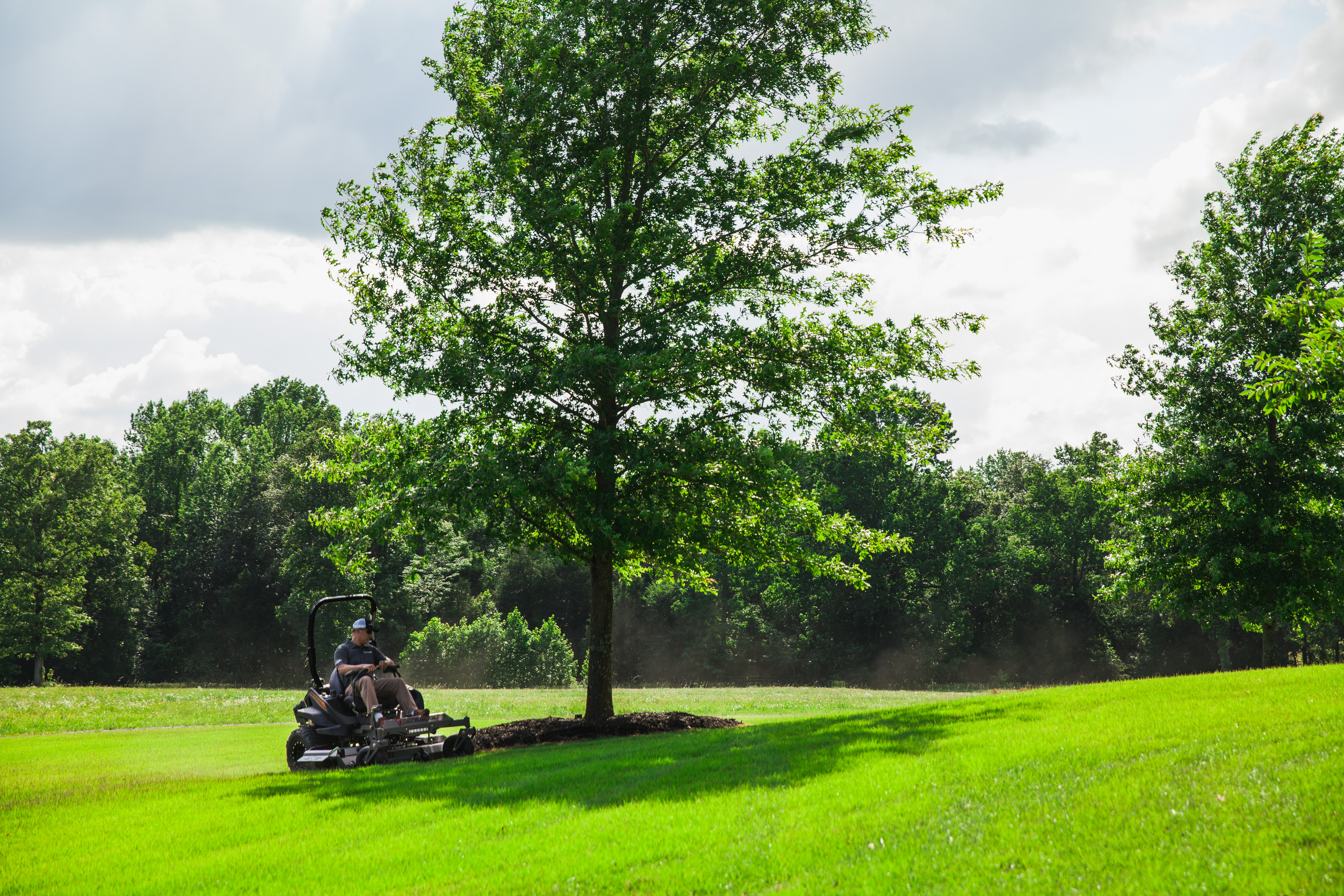 DROP ANY ADDITIONAL WEIGHT ON YOUR SPARTAN ZTR
During certain times of the year, many homeowners and even landscaping professionals add items to their mower such as a sprayer. If you are planning to mow hills, then it is suggested that you drop any additional weight. This is because too much weight, especially in the rear of the mower, can cause the mower to lose balance when mowing uphill as well as when loading the mower onto your trailer.

PROTECT YOURSELF
Most zero turn mowers have a roll bar set in place in order to protect the driver in case of a rollover. When mowing hills or inclined terrain, it is important to make sure that the ROPS (rollover protection system) is in place.

The Spartan RT Series, SRT Series, and CAT Diesel Mowers come with ROPS installed. And for those who want more flexibility, ROPS can easily be folded down when needed. However, it should be mentioned that ROPS and seat belts should always be used when operating a zero turn mower, especially if the land is not very level.

MOISTURE IS A NO-GO FOR MOWING HILLS
Most people tend to stay away from the mower when the grass is wet from rain or high humidity. Wet grass doesn't cut as well as dry grass and the cut can be uneven. Trying to mow wet grass on a hill is even worse. Not only is the grass difficult to cut, but the wet ground can cause the mower to slip.

SPARTAN MOWERS AND GT TRAC FOR INCLINES AND HILLS
Being able to mow inclines is a big deal. Because of this, all Spartan Mowers are equipped with GT Trac for precision weight distribution, precision balance, and precision control of your zero turn mower. Not only does this help you mow on inclines, but it also aids in keeping you safe and allowing you to mow with confidence.

Have questions? Whether you are looking to make the switch to a powerful zero turn mower or you are looking to add the best zero turn mowers to your commercial fleet of mowers, Spartan Mowers is here to help. Check out the pages dedicated to each mower on our website where you will find photos, videos, specs, and more. However, nothing beats seeing a Spartan Mower for yourself. Use our DEALER LOCATOR to find a dealer near you. Our knowledgeable dealers would be happy to show you the different Spartan Mowers and answer any of your questions.